TroniTechnik B2B Portal
Offer your customers an attractive range of wellness articles from a partner with over 10 years of experience in the B2C area. Thanks to our many years of experience and our range of exclusive products, we are the ideal dropshipping partner in the wellness area. An advantage of this system is that you do not have to pre-finance anything. Benefit from our advantages as a partner in just 4 simple steps.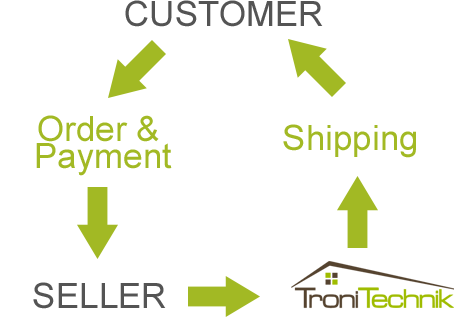 DROPSHIPPING EXPLAINED
Recently, the term dropshipping has been read more and more. It appears in almost all areas of eCommerce. The question now is what constitutes dropshipping. We briefly explain how dropshipping is composed and how you can use this system with us or our articles.
What is dropshipping? It is a method in eCommerce with which a retailer sells goods online or on site, but which he himself does not have in stock. If an end customer orders from this dealer, the distributor forwards the order to another shop or to the corresponding manufacturer, who then sends this item directly to the customer.
The shop operator or local dealer has the advantage that he does not have to have the goods physically in stock.
Partner with over 10 years of B2C experience
With us as your dropshipping partner at your side, you benefit from many advantages. Unlike ordinary wholesalers, we have been in the B2C sector for over 10 years. That is why we are very familiar with the requirements and challenges and know exactly what is important.
In order to be able to react quickly in the event of a warranty claim, we have optimized our products over the years so that they are almost completely modular. In this way, customers can independently change individual components and modules of their items in the event of a complaint - without the need for specialist knowledge. Only the corresponding module is sent to the customer, which usually takes place within one working day, so that complaints can be resolved quickly and easily.

Exclusive advantage
Furthermore, we have used the knowledge gained in recent years to develop our own products. Decisive for our development are the experiences that we gain in daily customer contact. We know the needs and wishes of our customers. This experience enables us to continuously improve our product range and to be able to react quickly to trends and developments over time and to be able to adapt to the constantly growing market requirements. In this way, our products remain innovative and lucrative for the end customer. We create an exclusive product range for ourselves and our partners.
Da Sie erst für unseren B2B Shop freigeschaltet werden müssen, werden Ihnen die Produkte erst nach erfolgreicher Registrierung bzw. Freischaltung angezeigt.
Kontaktieren Sie uns in diesem Fall gerne. Schriftlich oder auch telefonisch. Wir kümmern uns schnellstmöglich um eine Lösung.
Ja, wir stellen Ihnen gerne eine URL bereit, die Sie für Ihren Bestandsabgleich aufrufen können.
Wir sind ständig auf der Suche nach Partnern im Ausland. Gerne können Sie unsere Waren auch in anderen Ländern anbieten. Kontaktieren Sie uns dazu einfach.
Tronitechnik GmbH
Ellerkampstr. 75
32609 Hüllhorst Deutschland
Registergericht: Bad Oeynhausen
Registernummer: HRB 11263
Geschäftsführer: Kai Helweg
Umsatzsteuer-Identifikationsnummer gemäß § 27 a Umsatzsteuergesetz: DE265112823
Nach Unterzeichnung eines entsprechenden Vertrages.
Sie klären alle Reklamationen direkt mit Ihren Kunden. Selbstverständlich geben wir in Ausnahmefällen Hilfestellung, wenn Sie einmal nicht weiter wissen.
Der Rechtsbeistand Ihres Vertrauens wird Ihnen eine entsprechende Formulierung für Ihren Webshop zur Verfügung stellen. Darüber hinaus gibt es zwischen uns einen Vertrag zur Datenverarbeitung, welchen Sie gemeinsam mit unserem Kooperationsvertrag erhalten.
Sie erhalten bei uns einen persönlichen Ansprechpartner.
Selbstverständlich können Sie unsere Produkte auf allen legalen, rechtskonformen Marktplätzen vertreiben.